DELOITTE ENCOURAGES A CULTURE IN WHICH STEM SKILLS AND CREATIVITY ARE EMBRACED.
Preethi Jeeva, a double degree graduate (Bachelor of Computer Science and Bachelor of Science) from Monash University, joined Deloitte Australia as an analyst in Consulting Analytics and Information Management in March 2016.
As one of the largest professional services networks in the world, Deloitte offers business assistance with complex tasks like risk management, tax and auditing. But, as Preethi demonstrates, you don't need a business degree to pursue Deloitte careers – in fact, 25% of the company's graduate intake comes from STEM disciplines.
"I've seen STEM grads in lots of different areas of Deloitte, including digital, analytics, tech advisory and strategy," says Preethi.
What is the Deloitte careers team looking for in graduates? "Each year we recruit high-performing grads for our graduate program to inject new ideas and energy into the company," says Alec Bashinsky, Deloitte Australia's national leader of people and performance.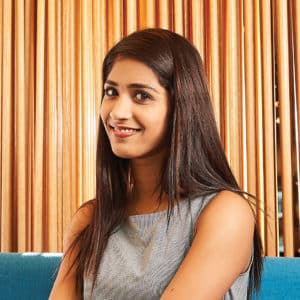 Deloitte gives me an environment where there's always learning and growth.
Deloitte wants innovators. So it makes sense that its recruitment process is as innovative as the people it is used to select. Their engaging game-based assessment – the first of its kind in Australia – involves a game in which participants receive communications from 'co-workers' who offer information and provide realistic logic-based tasks.
"It is a two-way process," says Alec. "We gather data on their skills and offer students insight into what it would be like to work for Deloitte."
Deloitte was voted most popular employer in five categories, including top employer of STEM graduates, at the Australian Financial Review's 2016 Top 100 Graduate Employers Awards.
"Our ability to embrace innovation, our corporate culture and our disruptive thinking are what position us as a leading employer in this field," says Alec.
For Preethi, it's the satisfaction of pushing herself to the limit on a daily basis. "Deloitte gives me an environment where there's always learning and growth."