A Master of Business (MBA) degree is the most popular postgraduate program in Australia and internationally. And studying online is fast becoming the preferred way to earn this management masters.
Here's a guide to online MBA programs in Australia, with advice on how you could use an online MBA to grow your future career.
Online MBAs are Popular in Australia
Online MBA programs in Australia are as popular as ever and seem to be overtaking the traditional classroom model. According to official enrollment statistics, more Australians study for an MBA online than exclusively attend a campus.
An estimated 20,333 Australians studied postgraduate Management and Commerce in 2018 (Extracted from uCube, 23 February 2020).
By comparison, 18,533 postgraduate business students were classified as "internal" (or on-campus).
Another 3,380 postgraduate business students were in the "mixed-mode" category.
Why are online MBA's so popular? In short, because they are convenient. You can study anytime from anywhere. Compare this to some of requirements, including international travel if you are from abroad, of doing a traditional MBA in Australia.
Unsurprisingly, most online MBA students in Australia are working professionals or other busy people who don't have time to waste. They see the tremendous career advantages of an MBA qualification as worth the challenge of fitting study into their weekly schedule.
Australia's Best Online MBA Degrees
Modern, flexible and affordable and three of the key qualities that define Australia's best online MBA programs. That's according to Lerna Australia, which has ranked MBA programs.
Among the best online MBA degrees is the Master of Business Administration (Global) from James Cook University. The program has 3 concentrations: organisational leadership, global perspective and strategy, and data management and analytics.
Also making Lerna Australia's list is Innovation and Leadership MBA from Ducere Global Business School. Learning is based on doing real online projects in small teams. And the traditional long exam is dispensed with in favour of projects, assignments and quizzes.
Rounding out the top 3 list is the University of Adelaide's online MBA. As with some other top online MBAs, the program is completed by doing a sequence of units. Students focus on 1 or 2 units at a time, each completed within a series of study blocks of several weeks in length.
These three MBAs also make the top 5 list at Learning Lab. The other two programs are the SCU Online MBA as well as the Data and Cyber Management MBA from Torrens University Australia.
Advice for Taking Online MBA Classes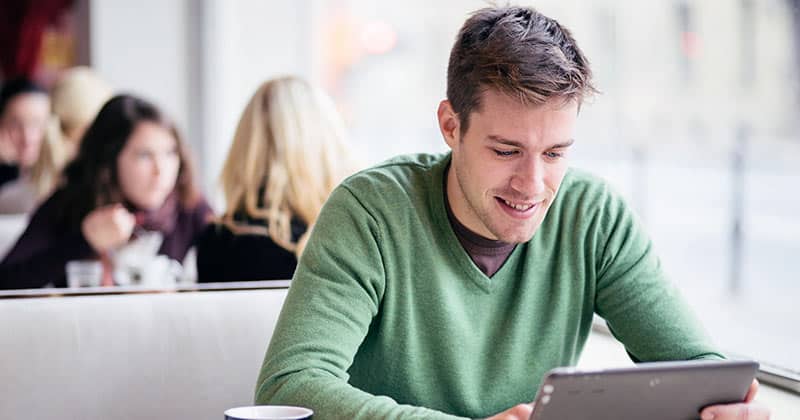 Online MBA classes are difficult, and the culture of online learning differs from the traditional campus programs that most students are used to. Students often find that they have to redefine the way they learn and build new study skills.
Academic advisers normally caution students against underestimating the difficulties of online learning, such as the risk of feeling isolated. An online MBA is not any easier or somehow has a smaller workload than other kinds of MBA programs. And students need to be prepared to do the bulk of their learning on their own while also taking opportunities to engage with others online.
Find out what other online MBA students think
Planning how you will manage online learning is usually preferable to jumping into it nonchalantly. Talking to other online MBA students to find out more about their experiences is a good place to start, and will help you determine if online learning is really the way to go.
For example, online MBA students have reported that "virtual teaming" can be highly beneficial to the learning experience (Kim, Liu and Bonk). Choosing a program that offers this can, therefore, increase your chances of making it to the end.
Start with a Graduate Certificate in Business Administration
For most MBA programs, you can start by studying for a Graduate Certificate in Business Administration. In Australia, this is a 4-unit courses that typically represents a third of the full MBA program. Entry requirements are lower and you can often be admitted even if you lack a university degree (but have professional experience).
The advantage of doing a Grad Cert is that you can test if an online MBA program is really for you. If it's not, you can leave after four units with new skills and a recognised qualification.
An example is the Graduate Certificate of Business Administration from Swinburne University of Technology. The course provides students with foundational knowledge and skills for pursuing further qualifications and/or a career in business management. Subjects are presented from the angle of engaging in entrepreneurial activities within organisations, covering operations management and leadership, strategic marketing, financial planning and decision-making.
Develop study strategies
Having strategies to address any academic problems before they arise is a good idea. For example, participating in study groups or online chat sessions with instructors and other students is a good way to guard against apathy.
Sticking to a regular study schedule can also be invaluable to maintaining consistent effort. Even if the university does not require it, this kind of professionalism helps ensures you are able to get your work done on time and achieve learning goals.